It's been months of quiet at Fontainebleau, the newest old resort opening on the Las Vegas Strip.
The silence ended with a giant news dump confirming the casino's opening date, Dec. 13, 2023, and a slew of other details we've been champing at the bit to get confirmation about.
Bonus: We've got some scoop about Fontainebleu's promotional video (screen cap below) that will warm your cockles and win you a bar bet someday.
Everyone was thrilled to learn Fontainebleau's opening date, despite the fact we'd shared it weeks before it was announced. As is our way.
Fontainebleau's looking like Dec. 13. Let's go!

— Vital Vegas (@VitalVegas) September 14, 2023
Nonetheless, very exciting!
While Fontainebleau isn't opening in time for F1, that's probably for the best. It's a wiser scenario to open during a seasonal lull to work out any kinks, rather than in the middle of bedlam. The opening date gives Fontainebleau a couple of weeks before the crush of New Year's Eve.
Room reservations are now being taken, so take a look at the official Web site.
Fontainebleau confirmed more of our scoop, of course. As we first shared back in August, LIV nightclub is expected to shake up the world of Las Vegas nightlife.
It's worth noting LIV is pronounced like "live and let let live," and the letters represent 54 in Roman numerals. The original Fontainebleau opened in 1954.
As we've shared, major DJ talent is rumored to be slated for LIV, including Tiesto and Zedd, formerly of Resorts World. Oh, yes, it's awkward.
The announcement of Fontainebleau's venues was accompanied by a promotional video.
We'll wait while you watch it.
Our first 50 viewings of the video were filled with awe and copious WTF. The woman in a flowing evening gown using a jackhammer. The stock footage of people doing random things (like pillow fighting). The cheesy music that made us think of "Perfect Strangers" and other 1980s sitcom themes. Here are the lyrics, for posterity.
Fontainebleau
Together again as we were back then
Yes, I've come back to you
It's your time in a state of mind
When you just let go
It's your time when you just unwind
And you let your love grow
It's your time, make a rendezvous
A getaway to the Fontainebleau
It's so tres chic, merci beaucoup, thank you
Fontainebleau
We're together as it was back when
When I was loving you
With you again, now I don't know what I'd do without you
Fontainebleau
Fontainebleau
Yeah, we were fairly mortified and very concerned about Fontainebleau. It turns our our initial assessment of the video was missing a key piece of information.
The guy singing the cheesy song is, wait for it, Paul Anka.
It doesn't make the song any less cheesy, but with context, it sort of goes from WTF to OMFG.
First, it means Paul Anka is still alive!
Second, Fontainebleau got Paul Anka to sing their song.
Third, it's Paul fricking Anka. This performer has a long connection to Las Vegas and, as it turns out, to Fontainebleau Miami, where he's performed for decades.
Paul Anka is also the guy who shared in his autobiography that Sammy Davis Jr. was obsessed with porn, along with reminding everyone Frank Sinatra was a jerk. Anka also wrote the lyrics to Frank Sinatra's "My Way." Another Vegas tie-in? Anka wrote "Puppy Love," the song that launched Donny Osmond's career. Osmond now performs a residency at Harrah's Las Vegas.
Paul Anka is the closest thing we have to a living de facto member of the Rat Pack.
Anyway, we take back all the snark about Fontainebleau's jingle. It's Paul Anka talking about being "together again as we were back then." It's a love song. Now you know.
If this is any indication of the nods to the past at Fontainebleau, we're excited to see what else is in store. Especially the player-friendly casino we've heard so much about.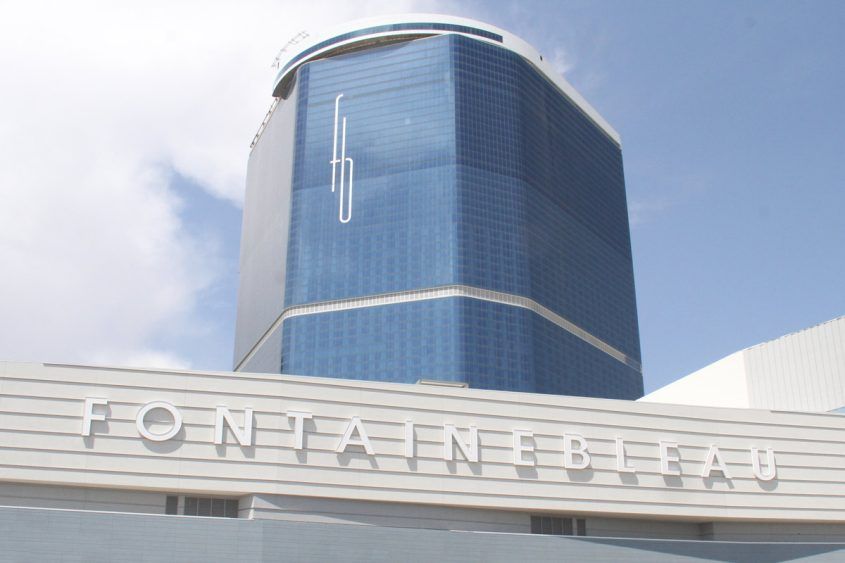 Fontainebleau also confirmed it's mind-boggling restaurant and bar line-up. We shared some in August (Komodo, Papi Steak, Gabriela Camara's Contramar Cantina), but that was just the tip of the iceberg lettuce. You know what we mean.
The new resort announced an impressively aspirational 36 restaurant and bar venues.
We'll list everything here, but you'll want to explore the Fontainebleau Web site for details. Some of the restaurants won't open until 2024.
Cafe Cuto: "A contemporary take on the classic European coffee bar."
Chez Bon Bon: "Offering an array of freshly baked pastries, delightful handmade confections, and convenient 'grab and go' options like sandwiches and wraps."
Chyna Club: "From the creative mind of Hakkasan and Wagamama founder Alan Yau comes Chyna Club, serving eclectic Chinese cuisine."
Cantina Contramar: Opening in 2024, unites…three of the most recognized and celebrated women in the Mexican culinary and creative communities: Chef Gabriela Camara, architect Frida Escobedo and Tequila Casa Dragones founder Bertha Gonzalez Nieves."
Don's Prime: "A Fontainebleau Las Vegas original, this stylish, softly lit steakhouse will evoke mid-century glamour."
Ito: "Refined omakase restaurant, led by chefs Masa Ito and Kevin Kim…an inventive interpretation of traditional sushi in an awe-inspiring setting on the 63rd floor of Fontainebleau Las Vegas."
Komodo: "Connecting the flair of Las Vegas with the energy and regional flavors⁠ of Southeast Asia."
KYU: "Asian-inspired restaurant will serve American barbeque staples."
La Cote: "La Cote will boast a vibrant, international menu with hints of Mediterranean flavors."
La Fontaine: "An elegant, daytime fine-dining destination specializing in French cuisine."
Mother Wolf: "Evan Funke, chef of L.A.'s beloved Mother Wolf, Funke, and Felix, will bring his rich and soulful Italian cooking to Las Vegas with the opening of Mother Wolf."
Papi Steak: "Fuses Golden Era Hollywood swagger with David 'Papi' Einhorn's modern day spectacle to create an entirely fresh steakhouse experience."
Promenade: Fontainebleau food hall will feature Break (treats and coffee),
Capon's Burgers Fries & Shakes, El Bagel, Miami Slice, Bar Ito (handrolls and sashimi), Nona (sandwiches and salads) and Roadside Taco.
The Tavern: "The menu will defy all expectations for bar food, offering American classics with fresh California flavor alongside sushi."
Vida: "Vida is an energetic American bistro featuring a wide variety of dynamic fare."
Washing Potato: "From restaurateur Alan Yau…dim sum."
Are you not entertained? We are already experiencing some decision fatigue, but here's how it's likely to go for us:
1) Steakhouse. It's a new resort, it's the law.
2) Italian. No pressure, Fontainebleau.
3) Food court. For everyday visits, burgers, pizza or tacos win the day.
We'll get around to everything, eventually.
Those are just the dining options!
Here are the bars and lounges: Apres, Azul, Bleau Bar, Casa Dragones Tasting Room, Collins, Nowhere and Solo.
Palms has its Unknown bar, Fontainebleau has Nowhere.
We love all of it, mainly because it's a massive relief Fontainebleau is opening at all after a nearly two decade wait! It's a long story, but Fontainebleau was first announced in 2005.
We're thrilled Fontainebleau is starting to do some of its own P.R., so we don't have to.
The resort has some challenges ahead, but that's not for now. Now is for "Holy crap, that's a lot of restaurants and bars!"
Props to Fontainebleau for going all-in. The opening is so close we can taste it.
The post Fontainebleau Confirms Opening Date, Nightclub, Restaurants and More appeared first on Vital Vegas.